NEW Stamp devoted to Princess Diana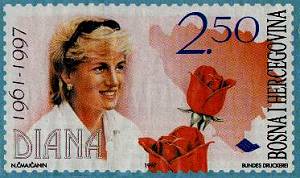 Emir Hrenovica, the manager of the marketing department, of JP PTT BiH ( Bosnian post office) in an interview for Bosnian weekly newspaper "Svijet" announced a new postage stamp from Bosnia.
The stamp is devoted to the late Lady Diana, Princess of Wales. The motif of the stamp is a portrait of the princess and a silhouette of the boundaries of Bosnia and Herzegovina in the background and two red roses. The value of the stamp is 2,5 DEM (German mark). The exchange rate is 100 Bosnian Dinar for 1 DEM according to the exchange list issued in Bosnian daily "Oslobodjenje" from the 4th November 1997.
There will be issued 100.000 pieces of the stamp. The printing is done in Bundes Druckerei in Germany. Engraver is N.Cmajcanin.
In the same interview, Mr. Hrenovica said that the representative of the Bosnian post office in USA will be Delaware Valley Stamp Company.