This page is not an official page of the JP PTT BiH ( National Postal Office of Bosnia and Hercegovina). This page is made to give some, not all information, about postage stamps, issued in Bosnia, I have in my possession. Note: I am not philatelist, this is all Greek for me.
Because the stamp collecting , or philately, is one of the most popular hobbies in the world there is natural interest to collect stamps from Bosnia. Collecting of postage stamps is also known as philately (according to one source it is coined Greek word meaning, literally, "love of what is free of further tax"). I have received e-mail messages from collectors from all round the world because on one home page I have made were some (bad) pictures of four postage stamps from Bosnia. The purpose of this was only to illustrate the page and because the stamps were designed by world famous design team TRIO from Sarajevo.
First postage stamps in Bosnia were issued during the Austrian-Hungarian occupation of Bosnia and Herzegovina. More information can be find in catalogues or more specialized literature. During the Congress of Berlin in 1878, monarchy of Austria-Hungary have got administration rights over the country, and by 1908 had annexed Bosnia and Herzegovina. Until that the country was controlled by the Ottoman Empire. In June 1914 the heir to the throne of Austria-Hungary, Archduke Francis Ferdinand, and his wife were assassinated in Sarajevo, an act that precipitated World War I.
After W.W.I and dismantling of Austro-Hungary, Bosnia and Herzegovina merged and became part of the independent Kingdom of the Serbs, Croats, and Slovenes also known as Yugoslavia. After the end of the W.W.II, all the various parts of Yugoslavia were reconciled and created a Yugoslav federation with Bosnia and Herzegovina as one of the constituent republics. Issuing postage stamps concerning Bosnia and Herzegovina continued under the postal authorities of Yugoslavia.
March 1992 Bosnia and Herzegovina declared its independence . That same month, Bosnia and Herzegovina was brutally attacked by Yugoslav People's Army. The war in Bosnia began. Postage stamps issuing began already during the war. Postage stamps were issued by the national post office of Bosnia and Hercegovina, (in Bosnien) : Posta Telegraf i Telefon usually called PTT BiH.
The logo of the PTT BiH is :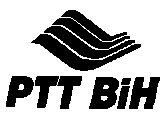 The postage stamps of Bosnia and Herzegovina records history, geography, politics, art, and numerous other aspects of human civilization. Apart from their aesthetic value the stamps are also a documents of historical value especially for researchers and students.
There are:
Omnibus Issues: I have only one complete devoted to the Olympic games in Atlanta, issued 1996
First day covers: I have not any. Search for information about such officially issued FDC in literature
Envelope with prepaid postage: As I know there were some such issues
Commemorative Issues: The only one I have is devoted to the Pope visit to Sarajevo

Postage stamps of Bosnia and Herzegovina can not be purchased easily. I tried to find phone/fax number of the national post office of Bosnia and Hercegovina but without success. The only way is to make a contact with a person in Bosnia, also very difficult job. Maybe a message trough Sarajevo pipeline or Bosnia related News groups such as :

© Siba´s Friends and Relatives WorldWide, Inc.
URL for the main page: http://www.bosnia-online.com/stamps
For comments, questions or contributions go to Contacts.